Now Accepting Applications
Be a part of a rapidly growing company! Our success relies on the dedication and knowledge of our employees.
Please review any and all job openings below.
Your Building Centers is an employee owned company providing quality building material products and services to professional builders and do-it-yourself customers throughout central PA. YBC became 100% employee owned in 1989, but it's predecessor companies date back to the early 1900's.
YBC offers a benefits package that includes:
Competitive pay.
Health insurance.
401(k) program.
Employee stock ownership program.
Employee discounts.
Paid vacation and holidays.
Your Building Centers is an equal opportunity employer. In compliance with federal and state laws, qualified applicants are considered for employment without regard to race, color, religion, gender, national origin, marital status, sexual orientation, veteran status or disability, which, with or without a reasonable accommodation, would not prevent an applicant from performing all of the essential functions of the relevant job.
All new full-time employees have a 90-day waiting period before being eligible for benefits.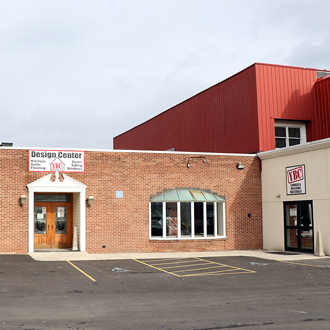 A YBC counter sales representative works at the sales counter inside our retail stores and is responsible for servicing and selling to both the professional contractor and the project-oriented homeowner.
The counter sales representative is responsible for greeting customers both in person and on the phone, taking orders, selling products, providing estimates, answering questions related to building materials, keeping the sales counter area and show room neat and well stocked, and providing excellent customer service. The successful candidate must be courteous and professional to all customers, regardless of the situation, become knowledgeable in a variety of different construction projects, and have the ability to communicate effectively.
This is a customer-facing, physically active position requiring employees to use their arms, hands, legs, and backs regularly. The position would require the ability to bend, walk, and stand as necessary as well as be able to lift 50 pounds consistently. The position is a primarily indoor retail environment with occasional exposure to the outdoors.
Responsibilities of the Position:
The counter sales representative is responsible for:
• greeting customers both in-person, on the phone, and electronic avenues.
• acknowledge the presence of a customer if you are working with another customer.
• taking orders.
• selling products.
• providing estimates.
• answering questions related to building materials.
• keeping the sales counter area and show room neat and well stocked.
• maintaining store inventory (stocking shelves).
• learning all aspects of the computer system for appropriate sales processing.
• giving customers the best up-to-date valid information. Do not over promise and never fabricate an answer.
• following proper discounting procedures and obtain approval from a superior for special pricing.
• making every effort to close the sale
The counter sales representative must be committed to:
• Continuous learning and growth
• Embracing a customer first type mentality
• Maintaining a positive cheerful, helpful, can do attitude
• Providing excellent customer service
• Completing all required training
• maintaining job confidentiality
• adhering to all company policies and procedures
• maintaining an appropriate personal appearance
• performing all tasks as assigned by management.
Ready to Apply?
Click below to be taken to our employment application where you can apply for one of our open positions.
Apply Now
Schedule a FREE Kitchen & Bath Consultation
Let our knowledgeable kitchen and bath specialists help you design the kitchen or bath of your dreams!
Schedule free appointment
Find Your Contractor
Looking for a contractor for your next home improvement project? Start your search here.
Search for Contractors